Spooky Sailor's Apple Cider Rum Punch
Rum Cocktail Recipe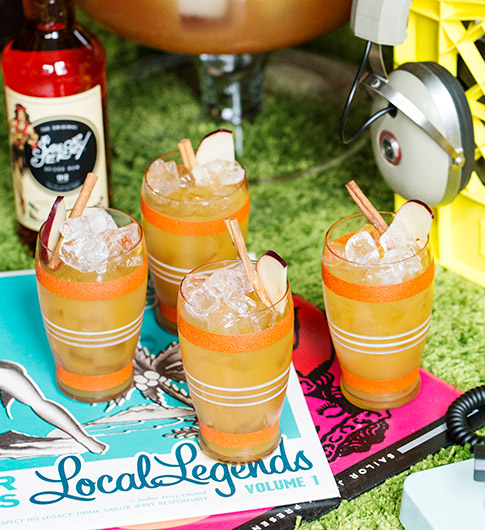 FOR YOU: A SPINE-CHILLING SPOOKY SAILOR'S APPLE CIDER RUM PUNCH
Satisfy your sweet tooth without digging into the left over trick-or-treat candy this Halloween. Sailor Jerry Spiced Apple Cider Rum Punch is the perfect Halloween cocktail to sip out by the fire on a cold October night. This sweet, fruity and warm Sailor Jerry Spiced Rum cocktail will be an instant hit at any Halloween, football tailgate party or family dinner this Fall season.
FEAST YOUR EYES ON THIS DELICIOUS SAILOR JERRY SPICED RUM HALLOWEEN COCKTAIL RECIPE:
How to Make A Sailor Jerry Spooky Apple Cider Rum Punch:
In a large saucepan, add all ingredients except for the Sailor Jerry Spiced Rum. Stir gently on medium-low heat for 30 minutes.
Strain out spices then add in Sailor Jerry Spiced Rum.
Let cool to serve warm or refrigerate and add to a punchbowl with block ice.
Garnish with orange and lemon wheels and cinnamon sticks.
Enjoy your Halloween cocktail!
Don't fancy this creepy concoction? Why not try one of our other delightfully frightful Halloween Cocktails.