BUBBLING CAULDRON
Rum Cocktail Recipe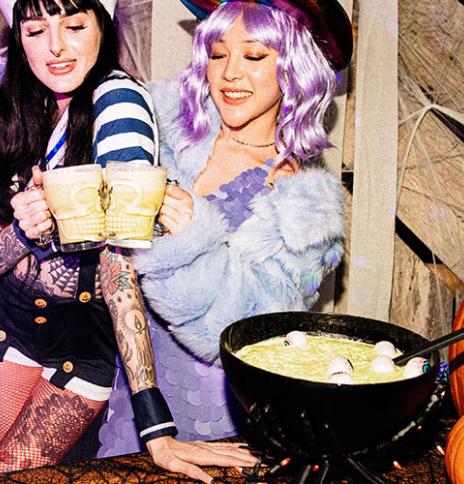 We've got a potion brewing this Halloween that doesn't require any witchcraft, but the flavor of this Sailor Jerry Spiced Rum cocktail will have you thinking there was some magic involved. The Sailor Jerry Bubbling Cauldron is the perfect cocktail to finish off Halloween after the trick-or-treaters have stopped knocking. A group serve complete with Sailor Jerry Spiced Rum, citrus, coconut, and the smooth taste of green tea ice SCREAM — you're going to have a hard time finding a more satisfying Halloween cocktail. This Sailor Jerry Spiced Rum cocktail is a jaw dropper, guaranteed.
How to Make A Sailor Jerry Bubbling Cauldron
Stir together Sailor Jerry Spiced Rum, limeade concentrate, 3 1/2 cups cold water and 1 can ginger beer in a punch bowl.
Scoop the ice cream into the punch. Pour the remaining 2 cans of ginger beer over the top to create a foam.
Optional: Garnish with candy eyeballs.
Serve and enjoy your Halloween cocktail!